PROJECT DETAILS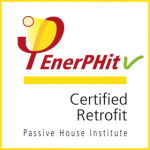 PROJECT DESCRIPTION
This project was a deep renovation and extension of a 1960's Donnybrook property to become a spacious (367m2), modern family home over three floors. This project was only the second building in Ireland to achieve certification to EnerPhit standard.
External insulation was used to wrap the building and achieve a cold bridge free building envelope. Heat recovery ventilation, solar thermal panels and a rain water harvester were installed. Airtightness test result of 0.6ACH surpassed the EnerPhit target of 1.0ACH and achieved the passive standard, an exceptional result for a project of this type.
The client specified a requirement for underfloor heating and at the time of writing it had been used only twice in 2 years, for 2-3 hours when external doors were left open for extended periods of time.
This involves detailed pre-construction planning crucial to successful construction and on-time delivery, and allows the client and team a clear pathway to the bidding process, construction phase, and through to completion.
WHAT OUR CLIENT SAID
"The reliability and quality of the work Mannion Passive House Builders delivered was exceptional. The standard of finish they achieved was down to careful consideration and planning on how all surfaces were to meet. Cyril had an excellent team of tradesmen and was able to spot issues ahead of time, the result is a seamless look far exceeding my expectations.
I also found Mannion Passive House Builders were very fair on cost, there was no playing games, this is very unusual in my experience. The only cost deviations arose where we made changes as the project progressed and the keys to the house were delivered the week they were scheduled.
I would have no hesitation in recommending Mannion Passive House Builders, Cyril's integrity is second to none, if I was to build another house I wouldn't even go to tender, I would just give the contract to Cyril"
Peter Donnelly
EnerPHit Home Owner, Donnybrook, Dublin 4
PROJECT KEY COMPONENTS
Airtightness Test result: 0.6ACH
Heat Recovery: Dantherm, HCV3 (2 No.) Dantherm HCH5 Heat Recovery Units, with summer bypass, 77% efficiency HRE including air duct losses
U-Values: Foundations – 0.131 W/(m²K), Roof – 0.115 W/(m²K), Exterior Walls – 0.171 W/(m²K)
Windows & Glazing: HolzPlus timber aluclad windows and doors, U-value 1.3 W/(m²K) and Triple-glazing with warm edge swiss spacers, U-value = 0.6 W/(m²K)
International Passive House Database Ref: 3835
BER: A3